Latest News
The General Data Protection Regulation will commence from 25th May 2018. Protels Operations Director James Latham has been busy studying the new legislation and ensuring it is implemented correctly into the company procedures.
The company will soon be issuing our updated procedures, ensuring we are full compliant with GDPR. If you would like to view our privacy policy please click here



To coincide with Lent, Protel Fieldwork's staff will be undertaking a challenge to hula hoop

the equivalent of walking from Coventry to Calais (210 miles).

Every day, the team will hula hoop for a combined 50 minutes to cover the distance required
You can help Protel Fieldwork raise money for this great cause by donating directly to their fundraising page by clicking here
JustGiving sends your donation straight to The Myton Hospices and automatically reclaims Gift Aid if you are a UK taxpayer, so your donation is worth even more.
Thank you for your support!
Protel Fieldwork are delighted to be announced as the Coventry & Warwickshire SME winner of the 2017 business award for service excellence

As an SME, Protel Fieldwork Ltd. has outshined the competition by presenting its clients with excellent customer service through its years of operating.

'As is always the case, giving me confidence that the job would be handled with ease and that I didn't have to worry about it at all! Getting paperwork (details of respondents) in really good time/in advance.'

-POS Insights

'Very quick turnaround to diarise a series of interviews in a way that enabled time efficient fieldwork for our project team.' -Systra, 2017
As the winner of the SME Service Excellence Award, Protel Fieldwork Ltd. will continue to produce and exceed its customer service along with its communication, adaptability, friendliness and professionalism with new and existing clients.
One of our own, CATI supervisor –John Higgins, is undertaking the role of Captain Hook in Peter Pan at the Hexagon Theatre in Reading this year. John has temporarily hung up his headset for this season to pursue a role that will unveil the festive feelings in all of us.

John is a well-respected employee, whose good voice and diction helps to train our CATI staff to be clear and professional when conducting their interviews. We always enjoy supporting him in his ventures as this recharges his dedication to his work at Protel.



As a sign of Protel Fieldwork's capability, we have ventured into new markets this year, conducting match day research with football fans at elite venues such as Anfield, home of Liverpool FC and West Ham United's home ground - The Queen Elizabeth Olympic Park.

The fieldworkers have also enjoyed their experience at these venues and they showed it with the quality work they produced. We always strive to achieve gratification with both clients and employees as this is one of our company values.
We are delighted to welcome a new addition to the team, Bilal Khan.
Bilal joins the team as an IT Apprentice, supporting all members of the team with his IT knowledge and skills. He will be helping to maintain the companies IT infrastructure, including the CATI unit, CAPI devices and our ever expanding database of nationwide field workers.
In addition to undertaking IT tasks, Bilal will also be assisting the team with project logistics, data entry of paper based questionnaires and day to day administration duties.
We look forward to working with Bilal and welcoming him to the mysterious world of market research.
We are delighted to announce that Saffina Ahmed has returned to the Protel team in the role of Marketing & Admin assistant.
In her new role, she will be working on marketing activities to help promote the company, whilst still keeping the project team on their toes ensuring all administration us up to date.
During her maternity leave Saffina was missed by us all, the office was a quieter place. She's unique and we are delighted to have her back!
This month is a milestone for Protel Project Manager Lorrain Malin, as she celebrates a decade with the company. Dedication, Commitment, Loyalty and Reliability are just some of the words to describe what Lorraine brings to the company. It's a privilege to her as part of the team and we hope there's at least 10 more years to come!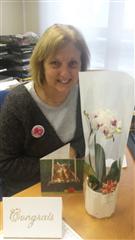 As a little thank you, we've sent her and a friend off for a Spa day, so she can pamper herself and let someone run around after her for a change!
We are happy to announce that our Administrator Saffina had a baby girl on Saturday 14th March, Saffina (seen here just 2 weeks before she gave birth) and baby Isha are both in good health and we look forward to meeting her new arrival.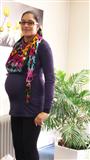 We are pleased to announce that we have retained our IIP accreditation following a recent audit. Protel originally achieved the IIP Standard in 2005 and have maintained this ever since. People have always been at the heart of everything that Protel undertake, it was noted that our network of Field Interviewers enjoy working for Protel and being made to feel part of everything we do.
1 - 10 of 21