Summer Offer on all Telephone Research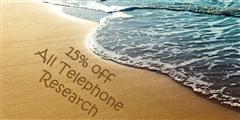 Reduction of 15% on all CATI and Telephone projects undertaken between July and August 2014
Why? We have a strong team of interviewers who love their work so much they don't want to go on holiday. Please help us to keep them happy!!
Why?At Protel we are passionate about all our clients' needs, quality, budgets, timings and good communication.

Business to Business CATI
Business to consumer CATI
All qualitative telephone recruitment.

Contact: James Latham at james@protelfieldwork.co.uk or telephone on 02476 238 400