Latest News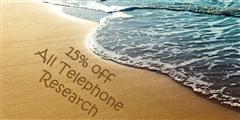 Reduction of 15% on all CATI and Telephone projects undertaken between July and August 2014
Why? We have a strong team of interviewers who love their work so much they don't want to go on holiday. Please help us to keep them happy!!
Why?At Protel we are passionate about all our clients' needs, quality, budgets, timings and good communication.

Business to Business CATI
Business to consumer CATI
All qualitative telephone recruitment.

Contact: James Latham at james@protelfieldwork.co.uk or telephone on 02476 238 400
Thank you to everyone who entered our Easter Egg hunt, especially those who correctly identified there were 30 eggs hidden in the video. From all the correct entries we recieved the lucky winner of our chocolate hamper was Ben Baly, a field interviewer from Solihull, West Midlands. Well done Ben.

Annita Small founded Protel after over 20 years of working in the market research industry. In April 2012, 13 years after the inception of Protel, Annita decided to take a back seat from operations and is currently working as a company director on the business rather than in the business. She is known and respected in the industry for her strong ethical principles and has built her team around these values.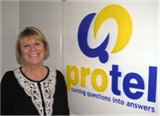 In April 2014 we will celebrate our 15th anniversary and plan to mark this milestone with various events throughout April and May, so keep an eye on our news page. Each month we will write a review to let you know what is happening at Protel. The format will tested over the next few months so any feedback you may have will be appreciated.
Protel 's growth has been supported by strong ethics and a commitment to deliver 'Quality data.' This has been supported by high quality standards and the adoption of well planned and proven data collection approaches. During the last 15 years we have built up a strong customer base. Please take a look at the data and written testimonials from our own customer satisfaction survey – these pages will be updated on a quarterly basis. I'd like to add that a high percentage of our clients have worked with us since inception, which is also a good recommendation for the work that we do.
As a small independent data collection agency, we have a huge commitment to everyone we work with. We would like to take this opportunity to thank all our customers, staff and suppliers ....... we work with the best!
Protel was recently appointed to undertake an important research study in West Quay shopping centre, Southampton. The objective of the study was to understand the modes of transport people use and the decisions made when choosing how to get to the centre.
The client was keen for as many visitors as possible to complete the survey, so Protel arranged for a mixture of their own interviewers to be deployed in the centre and the use of 'self complete' kiosks so visitors could complete the survey themselves. All the questionnaires were completed using iPads, with results available for the client to view on a daily basis.
Visitors to the centre were more than happy to use the Kiosks and over three days we achieved 700 completed surveys, 150 more than we had anticipated!
John has been working for Protel for 3 years. John is also an actor and enjoys both professions. We always know that John will be way in the month up to Christmas and New Year working in Pantomime. This year he will be working closer to home, taking on the role of Abanazar in Aladdin at the Royal Spa Centre, Leamington Spa. Most of our staff will be going along to support him. He's a great guy, whose good voice and diction helps to train our CATI staff to be clear and professional when conducting their interviews.
11 - 16 of 16