'Rapid Response' consumer research into the soft drinks development planning process for Döhler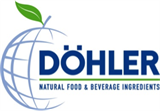 Summary
To ensure that the product development process for orange juice delivers what the consumer wants, Döhler UK has worked with Protel Fieldwork and marketing consultants, Market Refreshment Limited to research the key attributes that consumers find most desirable. The research findings are now being incorporated into the development of new orange juice varieties.
Objectives
Döhler UK, part of The DöhlerGroup, a global manufacturer of natural ingredients and fully integrated solutions for the food and beverage sector, recently commissioned a research project to develop a better understanding of consumer preferences for orange juice products. The objective of the research was to:
Obtain consumer research on 14 different types of orange juice
Identify the best tasting orange juice based on consumer feedback
Determine the aspects of the product that consumers found most attractive
Approach
The consumer research into orange juice preferences was conducted by market research experts, Protel Fieldwork in collaboration with Market Refreshment and focused on the 'from concentrate' orange juice market. Customer feedback on both branded and own label products was sought on areas such as appearance, smell, taste and mouth feel. To provide an unbiased view, products were stripped of branding to identify what really matters to the consumer- rather than a 'perceived quality'.
Döhler UK required a rapid turnaround of the research and Protel Fieldwork responded to deliver what was required within 5 working days from brief to completion. Protel utilised its knowledge of the local environment, through their network of local field supervisors, to identify the most relevant location and facilities. This ensured effective targeting of the core market and also generated a high footfall.
Protel Fieldwork carried out Hall Tests with 120 consumers that met the following recruitment profile – Adults 18-65 with 50% male and 50% female; in employment and regular consumers of orange juice (at least once a month). Respondents also needed to regularly buy at least one product from a nominated list of branded and own label products and shop at designated major supermarket chains.
The product range was split so that each person tasted five products, this enabled a balanced mix to be achieved. All products were maintained at the same temperature and tasted in plain white cups. Other considerations involved in setting up an appropriate tasting environment included palate cleansing and order of tasting. After tasting was complete each respondent completed a CAPI (Computer Assisted Personal Interviewing) questionnaire (the questionnaire was scripted onto specialist CAPI software by Protel Fieldwork), to give their opinion using a scale basis. This approach reduced human error and enabled Döhler UK to receive a rapid turnaround of tables (within 24 hours of interviewing).
"I have worked with Protel on a number of occasions and have been consistently pleased with their flexibility, rapid reactions and ability to organise frequently complex research tasks and provide balanced proposals and objective outcomes."
Austen McRoberts, Market Refreshment Ltd
The field-based consumer research that Protel Fieldwork carried out is one part of a wide range of additional work carried out by Döhler UK to create improved beverage products through expert panel testing and laboratory product development.
Outcomes
"On this latest project, timings were extremely tight and the number of research tasks potentially very difficult to assimilate and achieve. Protel quickly understood their task within a wider product development remit and were able to propose, refine, execute and report on an uncluttered and effective research programme that greatly helped to illustrate direction and strategy for the end client."
Austen McRoberts, Market Refreshment Ltd.
A key outcome of the research was to use the findings to develop a flavour profile signature for the end client. In addition the research helped to identify the characteristics that are most desirable for consumers including mouth feel, appearance and balance of sweetness and bitterness.